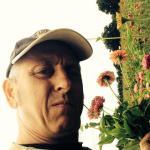 I was born in 1964 in Berkeley California a few months before my family moved East. Apart from one year in Columbia, South America and six months in Carmel Valley, California, I spent my whole childhood in rural New York State and graduated from Ithaca High School in 1982. I studied painting and film at Tyler School of Art in Philadelphia and graduated in 1986 with a BFA in graphic art and design.
After art school I worked a variety of art and film jobs in Philadelphia, New York, St. Louis, and South and Central America. Between 1986 and 1991 I wrote, directed, produced and edited The Benefactor, made Wishing Well on an optical printer I built myself, and was invited to attend the directors' program at American Film Institute in 1991. I made three short films, won the Ashley Amulis Scholarship and was one of eight directors invited to return to AFI for the masters program in 1992.
When I came back to AFI in the fall of that year, I directed Laura Sobers, a film written and produced by Wayne Reynolds. The film was a sharp stylistic deviation from my own scripts and inspired a shift in my own writing — toward realism and gritty character-driven stories. Since film school I've finished three feature screenplays, Parenzfiction, The Return of the Housepainter and Dirty Habit.

My wife, Anna, became a producer in 2003 by compelling me to shelve Spacerex — which had become an un-producible morass of ideas — and write a screenplay I could make on a shoestring budget, for which she raised the money.
The result, Dirty Habit, a minimalist psychodrama set almost entirely on an elevator, won–BEST DRAMA FEATURE at the Atlanta Underground Film Festival, BEST FEATURE at Lausanne Underground Film Festival, and was an official selection at several other festivals around the world. It was written in 2003, shot (mostly in my garage) in 2004 and finished (in my garage) in 2006 — all while I was working full-time as a set dresser on the ABC sitcom The George Lopez Show. (for which my department won an Emmy in 2004).
Seven years ago my wife and kids and I moved to a fixer house in Trumansburg, a small town in Central New York near my hometown of Ithaca to be nearby and spend some time with my father who has since passed away. But in the meantime we all got settled and decided to stay here, surrounded by family and all the beautiful sights, sounds and smells of my childhood. I've hardly taken my nose out of the roses long enough to update my biography.
In 2013 we moved to a new house in Trumansburg where I've been transforming a tractor bay into a movie studio–among other things. Being separated from my long-time cinematographer, Goran Pavicevic, it was necessary at first–and later a joy–to rediscover the art of cinematography.
On entering the American Film Institute, I became part of the departmentalized creative machine of Hollywood. As a director at A.F.I. I was not expected or allowed to operate a camera. Since coming to rural New York I have gone back to my roots and become the jack-of-all-departments filmmaker I was before going to Hollywood. And it feels good. I've done a number of short music and art videos, commercials, and video documentaries professionally, and  National Geographic recently hired me to shoot local artist, John Gurche, in his studio.
I continue to work on my own projects when I can.