A crack-addicted prostitute and a nun get stuck on an elevator. One is going to, one is coming from, a meeting with a killer.

Buy It.
In a seedy hotel, battered prostitute Leslie (Kirsty Hinchcliffe) flees the scene of a crime only to get trapped on the elevator with young Sister Amelia (Reagan Dale Neis). When no one responds to their cries for help, they reluctantly turn to each other. Leslie starts smoking crack and goes from standoffish, to giddy, to ferociously hostile at the drop of a hat.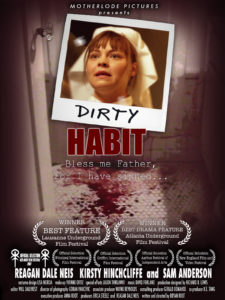 The unlucky sister learns more than she wants about the violent crime Leslie has just perpetrated. Tensions mount as Leslie pries into Sister Amelia's private affairs and they discover a shared secret that binds them together in a macabre and surreal plot involving a talking handbag and a Catholic bishop (Sam Anderson).
It's a dark, hallucinatory ride with powerful performances and supernatural thrills that goes straight to the heart of a girl on her way to Hell.

CAST
"Material Girls," "Maybe It's Me," (Lead) "A Minute with Stan Hooper," (Lead) "Malcolm in the Middle" (as Nikki), "Joey" (guest star) "Naked Frailties," "Kate," "Stark Raving Mad." and more
"Law & Order" "Muriel's Wedding," "Dark Heart," "The Third Nail." "Cold Ones," "The Definite Maybe," "The Virgin"(a.k.a. "Die Jungfrau")
"Forrest Gump," (Principal) "Lost,"(Bernard) "CSI NY" (Dr. Richards) "Cold Case" (Ted Holden)""Medium," "CSI" (Dr Mercer) "ER," (Dr Jack Kayson) "Angel,"(Holland Manners) "Millennium," "X-Files," "Murder, She Wrote," "WKRP in Cincinnati," and more.

CREW
Richard B. Lewis — Production Designer
Ken Russell's "Whore," "Max Headroom" (Emmy award), "The Lot," "Sea Quest DSV," "NetForce," "High Incident," "Amazing Stories," and more
Goran Pavicevic — Director of Photography
"The Art of Football from A to Z" (John Cleese, Dennis Hopper, Bono),"Bolshaya lyubov," " Gaseirneba Karabakhsgi," "The Second Front" (w/ Ron Perlman), "Strangeland" (w/ Dee Snider), "An American Vampire Story."
Bryan Root — Writer/Director
"Orphan" (Silverlake Film Fest) "Laura Sobers" (3rd prize Festival Giovanni, Turin, Italy), "Wishing Well" (1st Prize IFILM digital catapult), "The Benefactor," "Krumbach's Error," "Out Going Message," "The Return of the Housepainter" (Ashley Amulis Scholarship — The American Film Institute)