The Making of Dirty Habit: (buy it here)
BASED ON FACTS: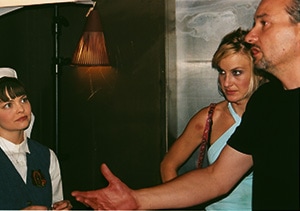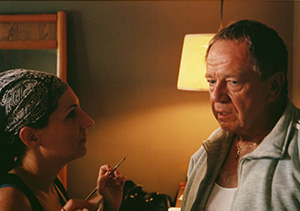 The working title of the film was "Stations" – as in "Stations of the cross" – with Leslie essentially participating in her own crucifixion.
But no one got the Catholic reference and they kept waiting for a train to arrive.
That's when my wife came up with "Dirty Habit," which speaks more to the content and timbre of the film.
In researching that title she found a news item about an Italian priest, arrested in a raid on a brothel. He had been employing prostitutes in a similar fashion to my fictional bishop and gotten caught at it. We discovered this a year after principal photography, but it was happening just months before I wrote the script! Fiction can barely keep up with facts. And I can stop worrying about the plausibility of my character!
BAD HAIR DAY: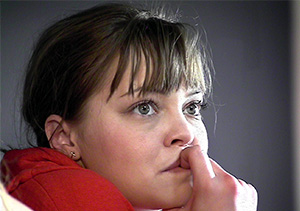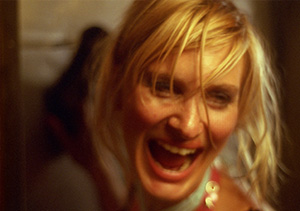 Kirsty came to re-shoots with short hair. It wasn't going to match what we'd shot. We had no wig, it was Sunday and we were screwed.
Reagan Dale Neis (brown-haired Sister Amelia) had restored her usual blond hair and was there to feed Kirsty lines. Since Reagan was off-screen anyway — she actually let our hair and makeup genius, Yvonne Ortiz (seen above, with Sam Anderson), CUT HER HAIR OFF and use it to make a blond fall for Kirsty (see photo). We all agreed that Reagan looked very cute in a bob, and that she'd earned her wings as a producer.
WRITER/DIRECTOR/SECURITY GUARD: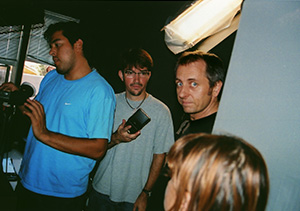 We were on location for seven days in an apartment building in Koreatown. It was only twenty minutes from my home but I always had some fire to put out and… well, who needs to pay a security guard when the director never sleeps? I was tempted to go home to my family a couple times, and I thought maybe I was being a little bit too much the low-budget masochist, until the morning I woke up with a total stranger standing in the room, appraising the sound cart. I don't know who was more surprised, me or him, but he was gone before I could finish screaming "CAN I FUCKIN' HELP YOU?" And, from now on, I will always sleep with the equipment. Unless someone else volunteers.
THE BAG GETS A VOICE: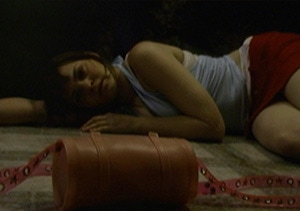 One day I was in the editing room, struggling with the weird problem posed by a talking handbag — pivotal in several scenes but just not working — when my daughter, Eloise, burst in declaring that SHE WAS BORED. I was about to get annoyed at her intrusion but I stuck her in front of a microphone instead. I had read adults for the role but the effect was always "Why doesn't Leslie just throw that creepy thing away?" But with a child's voice, it was a vulnerable thing that you couldn't do that to. And it worked as Leslie's unborn child — completing my wonderful picture of Hell.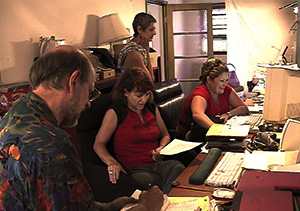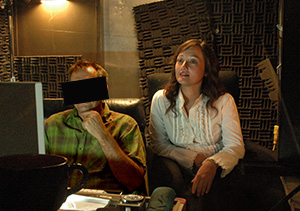 Thank you Eloise! NO, you can't watch the movie. Sorry.